RB-WATCHER MOBILE ROBOT
Autonomous mobile robot for surveillance & security in indoor and outdoor environments.
Collaborative mobile robot for surveillance & security
Surveillance & security tasks require precision and reliability in order to detect, prevent and overcome potential hazards and risks in different environments. 
Robotnik has developed RB-WATCHER, the autonomous robotic platform designed to safely and efficiently perform surveillance & security tasks, even in challenging or changing operating environments.  
RB-WATCHER can autonomously perform all kinds of surveillance tasks such as patrolling a predetermined area, object and person detection (intruders, for example) or fire detection. All this information is processed by the robot and sent in real time to the control center for decision making. A task that can be performed in all types of industries.
All this is possible thanks to its inspection and navigation sensorization, which includes a bi-spectral camera, front camera, RTK GPS and microphone, among others.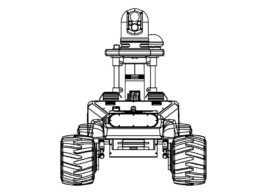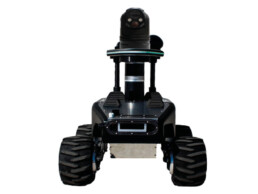 ---
Dimensions: 790 x 614 x 856 mm
Weight: 73 kg
Payload: Up to 65 kg
Speed: Up to 2,5 m / s
Environment: Indoor / Outdoor
Enclosure class: IP54 
Autonomy: Up to 5 h
Battery: LiFePO4 15Ah@48VDC
Charging time: 2 h. with standard charger (600W)
Traction motors: 4 x 500 W brushless servomotors with rubber wheels (mecanum optional)
Temperature range: -10º a +45 ºC
Maximum slope: 80%
Front depth camera
Inertial Measurement Unit (IMU)
3D LIDAR
Bi-spectral Pan-Tilt-Zoom Camera
Microphone
Router 4G
Optional Router 5G
Optional Smart Radio
---
DOWNLOAD DATASHEET
DOWNLOAD BROCHURE
MORE INFO
RB-WATCHER REALITY CAPTURE BLUEPRINTS
RB-WATCHER REALITY CAPTURE
---
Dimensions: 978 x 776 x 994 mm
Weight: 73 kg
Payload: Up to 65 kg
Speed: Up to 2,5 m/s
Environment: Indoor / Outdoor
Enclosure class: IP53
Autonomy: Up to 5h
Battery: LiFePO4 15Ah@48VDC
Traction motors: 4 x 500 W brushless servomotors
Temperature range: -10º to  +45 ºC
Maximum slope: 80%
NAVIGATION AND LOCALIZATION SENSORS
Front depth camera
RTK GPS (Optional)
---
DOWNLOAD DATASHEET
MORE INFO