Which are the future applications of robotics? What tasks will robots do in the future? What robotics solution do I need for my specific business?
Every company competing in the framework of Industry 4.0 has questions related to robotics, and while technology is advancing by the minute, this article tries to point out what are the positive future trends in industrial and service robotics.
As Milton Guerry, president of the International Federation of Robotics, says: "The transformation to robotic automation is accelerating in traditional and new industries".
There is a commonality in both the future of industrial robotics and service robotics. In both cases, the key is mobility.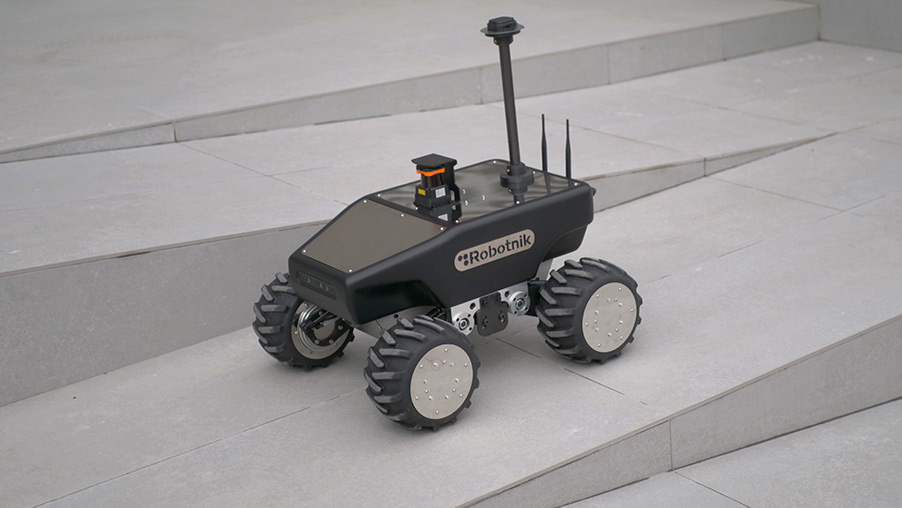 Future of robotics. Trends 2022
Collaborative robotics. The change can be seen in factories: the demand for mobile robotics to work autonomously in warehouses, sharing space with operators, has multiplied exponentially.
Ease of use. Good news for end users. Simplifying the implementation of industrial robotics is another clear trend for 2022, although for Robotnik, this aspect has always been a priority. Software and hardware architecture work towards intuitive and simple configuration, installation and interface.
Artificial Intelligence, 5G, IoT. The maturation of these 3 technologies, among others, allows the development of more intelligent robots that perform more precise tasks.
Interoperability. The communication of different robots with each other -fleets of robots- and with other external systems, increases safety and productivity.
New industries are rapidly adapting to automation through robotic systems. What will robots do in the future? Fundamentally, they will adapt to the needs of users. There is a new post-pandemic consumer behaviour and therefore companies are addressing new ways of responding. Mobile robotics for last-mile delivery or the rise of e-commerce are examples of this.
With regard to future applications in industrial robotics in particular, there has been an acceleration in the incorporation of Autonomous Mobile Robots (AMR) in logistics environments, with a special trend towards the automation of intralogistics (picking, order preparation or repackaging).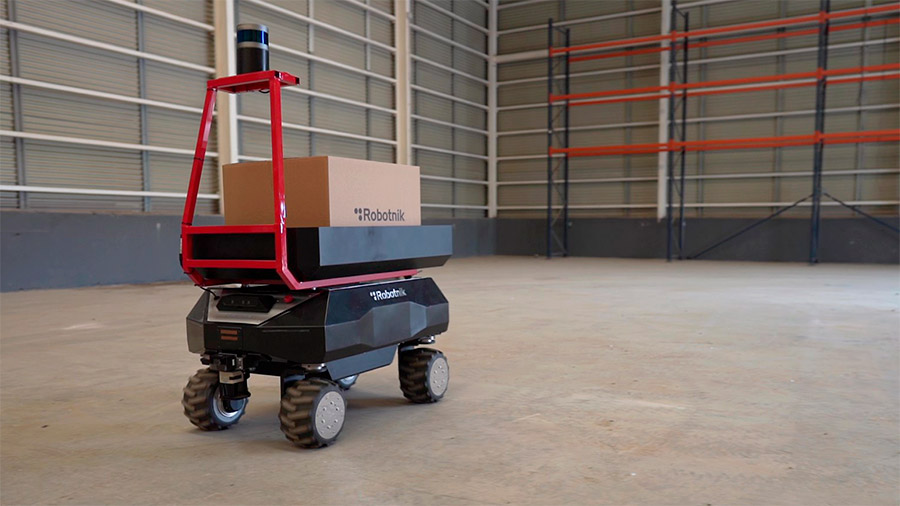 Last March, María Benitez, CMO of Robotnik, spoke about this at the conference organised by Universal Robots. The boost of mobile manipulation for warehouse automation (goods-to-robot) is undoubtedly one of the great advances in robots for the society of the future.
New trends
Robotnik's mobile robots are also increasingly in demand for maintenance tasks in manufacturing processes. AMRs are able to monitor or detect possible errors predictively thanks to sensors or machine vision.
The future of robotics also concerns service robotics. There are also some clear trends in different sectors: agriculture, security, emergency, construction and healthcare.
'Outside manufacturing environments, robotics has a pivotal role to play in addressing some of the key societal challenges or 'mega trends' in areas as diverse as demographic change, sustainability, health and well-being, food production, transport and security. Robots are already serving as life-saving tools for surgery, smart rehabilitation trainers for the convalescent, attentive guards and rescuers to protect the environment and safeguard human lives, as well as reliable movers in all kinds of logistics scenarios; that is why their role, impact, and interaction with people will only grow '. IFR 2021.
In the agricultural sector, for example, mobile robotics plays a key role in the main challenges of the future.
Economic demands, shortages of skilled labour in agricultural regions, the food and fibre needs of a growing world population and stringent (political) regulations will continue to drive the commercial need for agricultural robots. Innovations in robotics and digitisation rely on advanced and affordable technologies, such as a wide variety of sensors for various applications, related electronics and communication systems.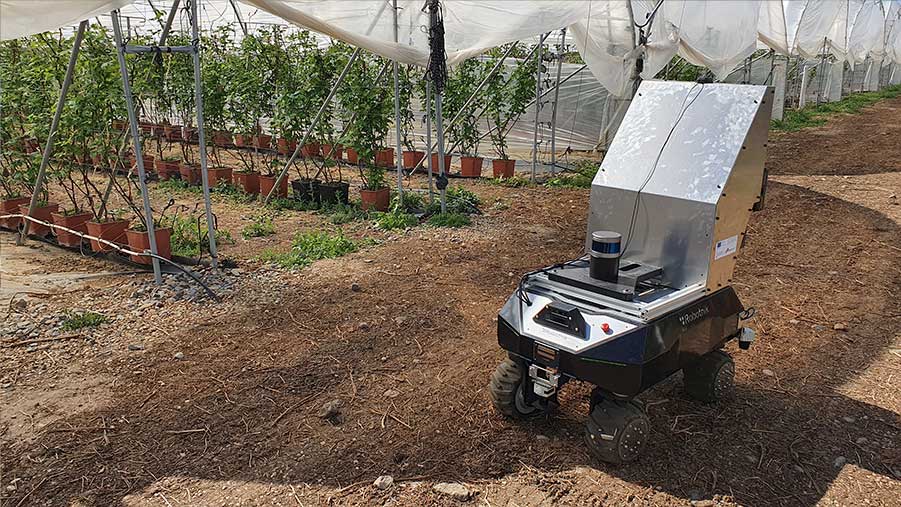 2022: the time to automate your business
The truth is that the future of robotics starts today. A smart warehouse capable of surviving a changing environment and increasingly specialised demand must start the process of intelligent automation now.
Collaborative mobile robotics is the real challenge of factory or warehouse automation, i.e. it is the mobility of robots that will make the difference in the profitability of a warehouse, whatever the workspace:
Is your facility small? The AMR that interests you.
Is your facility large? The AMR that interests you.
Do you want to automate indoor tasks? The AMR that interests you.
Do you want to automate outdoor tasks? The AMR that interests you.
The future of robotics is mobile, collaborative and intelligent.