When we talk about Industry 4.0, we can't help but talk about collaborative robots and how this intelligent automated solution has been a turning point in the integration of new technologies in industry.
Industry 4.0 has been made possible thanks to the extensive experience already obtained in the field of industrial robotics and its presence on the production lines to automate tasks in a wide variety of sectors, all with the aim of improving productivity, efficiency, and quality.
We would quite possibly never be talking about collaborative robots without the original development of industrial robots and their evolution towards the design of intelligent automated solutions, based on interaction with humans.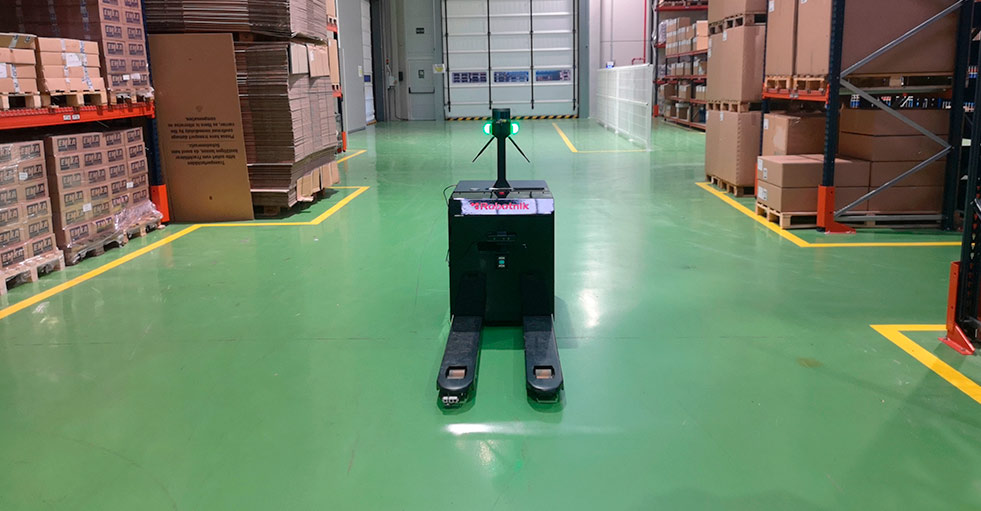 Because of this, none of these types of robotics is better than the other,  they are complimented tools. Rather they are complementary, they are automated systems developed for different types of needs and objectives. It is, therefore, essential to understand what they are, what they contribute to industry, their key differences, and how they facilitate coexistence and work coordination.
Industrial robots
Industrial robots were created as an automated solution to take on intensive production tasks that require a constantly moving assembly line.
They are generally large and heavy, and placed in fixed positions within the industrial plant, configured with modules that do not have force sensors.
These robots are designed and configured to work automatically and intensively, their priority being the constant execution of their tasks. In addition, they need a fenced safety area to protect the human operators around them. 
Industrial robots are designed to perform a single task with high precision and speed. It doesn't need to be moved, and so its positioning is a priority. The rest of the workers' tasks and processes are adapted to fit in with the robot's capabilities and workload.
In the case of mobile robotics, we could tell that the first step in the industrial sector were the AGVs. These types of robots require physical elements to function (magnets, beacons …), so they imply a modification of the layout, they are not capable of overcoming obstacles and the same robot doesn't have the same flexibility that a CMR does to work in different locations.
Collaborative robots
The collaborative robots are automated solutions designed to work interactively with humans. To facilitate this, they are specially designed to be quite compact and lightweight, thus ensuring they can be easily moved and take up little space in a plant's working areas.
Collaborative robots are designed to work with people, and so safety is key. For that reason, they have built-in movement detection sensors which ensure that they can alter their operations or speed to facilitate safe shared-working environments.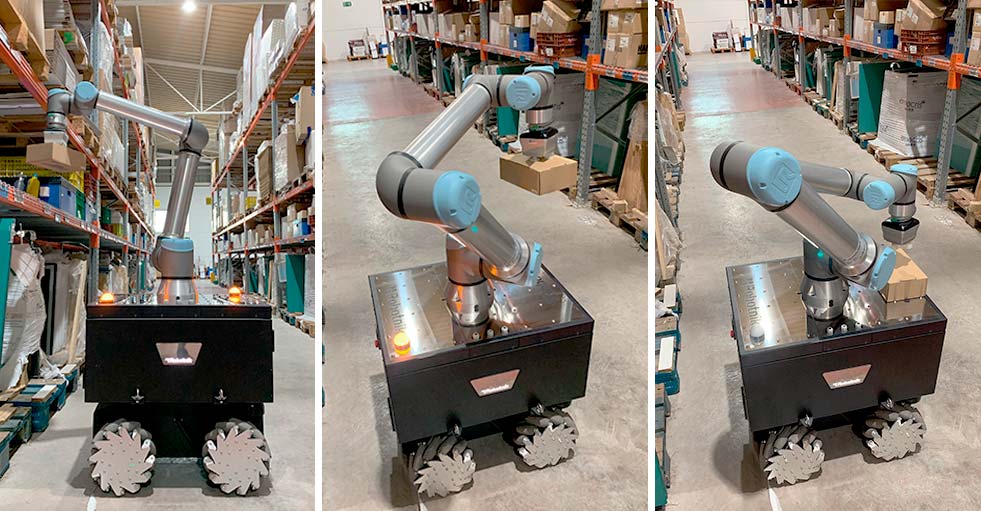 They aren't designed to carry out just one specific task, but, rather, to simplify the different processes that they may be involved in. This is why adaptability and flexibility are priorities in their design, as well as being easy to programme in order to carry out their different tasks optimally. 
The Collaborative Mobile Robots (CMR) have numerous advantages compared to traditional AGVS and help to reduce production costs for their rapid installation, flexibility, space saving, improved safety in the workspace and represent an aid for operators. As we have already mentioned before, they do not require physical elements and can work in different locations.
What are the differences between industrial robots and Collaborative Robots?
In general terms, the differences lie in the purpose they have been designed and developed for.
As far as industrial robots are concerned, they are designed to automate tasks and improve productivity, efficiency, and quality. They are created to perform a single task, but they can perform it so efficiently that they become essential for the optimal operation of an assembly line.  Is the case of industrial arms in sectors such us automotion or alimentation, for example.
So, as you can see, we're talking here about robots with a high degree of specialization, and a complex configuration carried out by experts, involving the creation of a workspace that requires specific safety measures. In addition to this, there are electricity, operation, and maintenance costs.  
A cobot, on the other hand, is a collaborative robot, which means they are automated tools created to operate under the guidelines of an operator, with whom it works in a coordinated and safe manner, all in the same workspace. This makes it capable of executing a single task or intervening in different tasks, depending on the production needs and the parameters it has been configured with.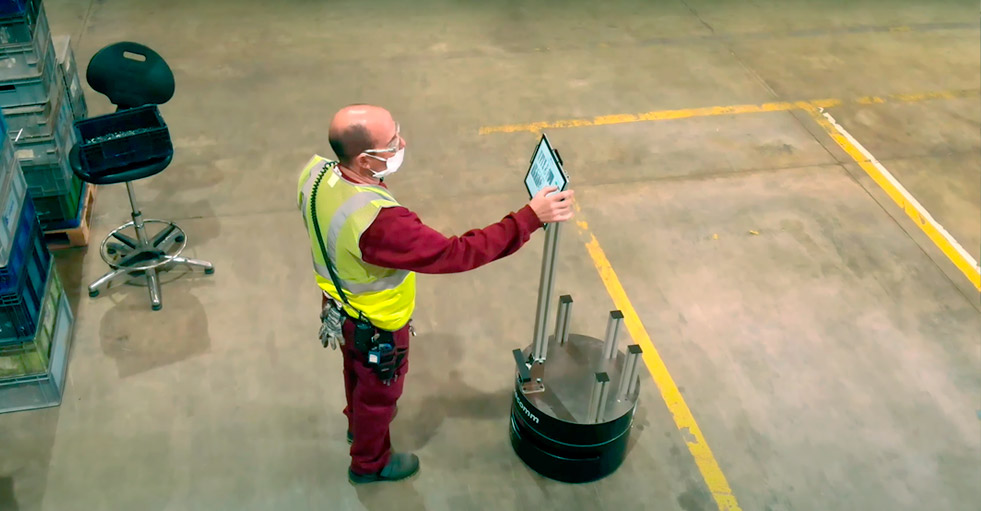 Because of this, a collaborative robot stands out for its versatility and ease of programming. This means that it can be easily integrated into the production line and can be operated and configured by an operator with basic knowledge.
This type of robot is able to free operators up from repetitive and precision-demanding tasks, thus helping to improve productivity and the quality of the result. This adaptability and interactive working influence their cost, as cobots stand out for their quick return on investment.
The CMR are perfect for autonomous transport loads and the mobile manipulators are designed for tasks such as pick&place, part feeding,  packaging, cleaning, polishing, screwing or drilling.
So, as we can see, both industrial robots and collaborative robots have their place on the production line, with the former conceived as a replacement for human workers, and the latter as a helper and ally to improve work efficiency.