Industry 4.0, also known as Connected Industry, is the industry stage that has consolidated the use of connectivity and collaborative robotics in industrial processes, creating workspaces in which humans and robots can work safely together and share information to optimize processes, thus resulting in better decision-making.
The use of mobile robots and mobile manipulators creates the flexible and autonomous industrial automation needed to create Smart Factories, where the greatest asset is the exchange of information made possible by the integration of the latest intelligent technologies into robotics, such as the Internet of Things, Artificial Intelligence, or Big Data.
This gives rise to the possibility of using intelligent, autonomous, and collaborative mobile robots which allow the creation of more efficient, optimal industrial processes with better use of resources, resulting in all-around greater productivity.
Industry 4.0 and the Age of Mobile Robotics
The combination of ICT and smart technologies has ushered in an era of mobile robotics with characteristics and features that widen its industrial applications and its capacity to process data, perform actions, and adapt to different working environments.
Thanks to R&D processes such as those developed by Robotnik, collaborative mobile robotics can take charge of the execution of repetitive processes, adapting the robots' movements to the information they receive, process and share, thanks to the latest state-of-the-art software and sensors.
This has brought about very significant changes, for example, in the application of mobile robotics for pick & place logistics tasks or for general industrial applications as part feeding, metrology, quality control, operations on large parts or packaging, cleaning, polishing, screwing or drilling,  where the repeatability and uniformity of actions are key to saving costs and streamlining processes.
What features enable collaborative mobile robotics to create intelligent factories?
Intelligent automation
This means that a mobile robot is not only capable of performing a task without human intervention, but that it is also capable of self-management and decision making, due to its ability to access, generate, and process information
In this way, the mobile robot doesn't only take on the execution of repetitive or dangerous processes; it can also decide to change its route or adapt its omnidirectional movements at any given moment, thanks to the simulations it can recreate and the predictive models it generates with the data it collects in real time.
Connectivity
This is what makes a machine-to-machine (M2M) communication possible: the creation of decentralized systems and the possibility for robots to interact with humans through integrated interfaces that simplify the collaborative work.
This also allows collaboration with other components that can be integrated into mobile platforms, such as artificial vision systems or robotic arms.
Flexibility
This is the adaptability that mobile robots and mobile manipulators have at their disposal, to modify their way of working, according to the demands of the production line, or the changes in the working environment.
Executing different tasks, adapting their speed, creating alternative routes, or changing sections in real time are all well within the capabilities of a mobile robot with intelligent navigation.
Within this ability to adapt, Robotnik has gone one step further with the creation of mobile manipulators that provide mobility and autonomy to the collaborative arms, with a simple plug and play integration.
Robotnik's contributions to the evolution of Industry 4.0 
Robotnik is an expert in the design, manufacture, and marketing of mobile robots and mobile manipulators, with all the necessary features to enable any industry to adapt them to its own needs.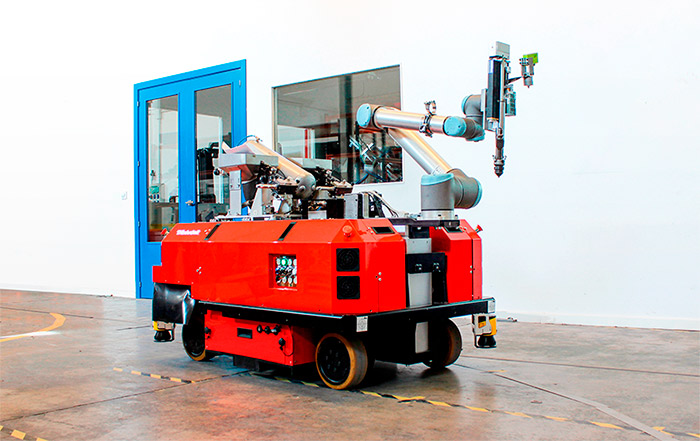 Their close collaboration with different types of industries has made it possible for Robotnik to innovate and create new tailor-made solutions to widen and enhance the industrial applications of mobile robots.
This has led to the development of an own

Fleet Management System

(FMS), which coordinates the operation of several robots and mobile manipulators working in the same area, sharing resources and creating coordinated flow control to save resources and create more efficient processes.

The integration of the latest intelligent technologies has enabled the provision of mobile robots

with

new functionalities

that can improve collaborative work. Some cases in point are voice control, people tracking, or autonomous coupling to other machines.

The development of an

Advanced user interface (HMI)

allows to generate maps and define localization (waypoints) and routes in a simple and interactive way.  It allows the client/user to control the operations of mapping, localization and navigation directly from any device connected to the robot network.

And, finally, it has enabled the creation of mobile manipulators compatible with different automated components that expand their industrial applications. Here we have the innovative

RB-KAIROS+ Mobile Robot

, a robotic platform with omnidirectional kinematics equipped for the integration of the Universal Robots e-Series arm. This allows unlimited expansion of the cobot workspace, because the collaborative mobile manipulator can work in different locations.  In this sense, it enables a wide range of new applications and it is a great complement for current URe arm users.
It is this continuous process of research and development that has enabled robotics to begin taking on new tasks in different fields and sectors.