What exactly is a robot manipulator and what are the real benefits of mobile manipulators?
Robotics and mobile manipulation are on an ever-spinning wheel, advancing to better adapt to the needs of users. Robotnik has been a pioneer in the design and development of autonomous mobile manipulators which, in short, are a natural evolution arising from the union of cobots and AMR.
This article clarifies questions such as what is a manipulator in robotics, what are the advantages of Robotnik's mobile manipulators and other questions of interest.
What were fixed robots a few years ago, evolved into collaborative robots and now Robotnik is already designing and manufacturing more cognitive, responsive and safer flexible mobile robots that lead the industry hand in hand towards the fourth industrial revolution.
As a robotics company founded in 2002, Robotnik has extensive experience in autonomous mobile manipulation and maintains business relationships with leading companies such as Universal Robots, Schunk, Kinova or Senserbot.
An example of mobile manipulation integration in industry is one of Robotnik's recent success stories, based on an industrial implementation at the Dutch gear production company Hankamp Gears BV. It features Robotnik's best-selling autonomous mobile manipulator, the RB-KAIROS+, which is discussed in more detail below.
What is an autonomous mobile manipulator robot?
A robot manipulator is basically a robot that integrates a robotic manipulator arm into a mobile platform, combining in a single product the advantages offered by both systems: the precision, dexterity and flexibility of one, and the autonomy and mobility of the other.
Collaborative mobile manipulation is now a reality available to all companies competing in the Industry 4.0 framework. These are autonomous mobile manipulators prepared to work safely in environments where people are present. Their capacity to carry out mechanical and repetitive tasks, covering complete work shifts, make them essential tools for any industry that wishes to position itself at the technological forefront and occupy a relevant position in today's market.
Mobile Manipulator applications in industry
Handling – Pick & Place
Loading / positioning
Assembly
Screwing, drilling…
Inspection and testing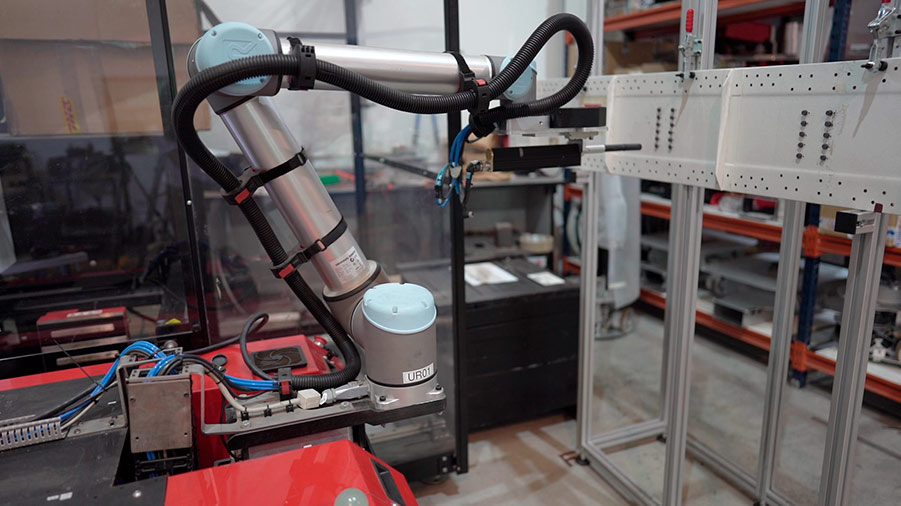 Advantages of Robotnik's mobile manipulators
The company's portfolio includes mobile manipulation robots for industrial and R&D applications such as the RB-VOGUI+, XL-GEN or the RB-KAIROS+.
Some of the advantages of Robotnik's mobile manipulators:
Easy configuration and installation, adapting to the needs of each customer, with open software and hardware.
Collaborative: collaborative mobile manipulators are perfect for sharing workspace with people in total safety.
FMS (Fleet Management System) to make it possible to coordinate a fleet of robots sharing the same workspace and resources.
HMI (Advanced User Interface) to generate maps and redefine routes and waypoints.
Autonomy: its activity complements or replaces, if necessary, the activity carried out by any worker during 1 or more shifts.
Omnidirectional movement that allows time reduction, making it 1/5 times faster than a differential one.
Free navigation as opposed to the fixed routes of traditional AGVS.
Advanced intelligent functions such as people tracking, coupling to machinery or voice communication, among others.
Within Robotnik's portfolio of mobile manipulators, there is a model that stands out.
RB-KAIROS+: Robotnik's most requested mobile manipulator
This innovative collaborative mobile manipulator is specially designed for the development of industrial applications. RB-KAIROS+ is the robot for logistics and industrial mobile manipulation, for Pick&Place, Fetch & Carry, Machine Tending or operations on large parts, among others.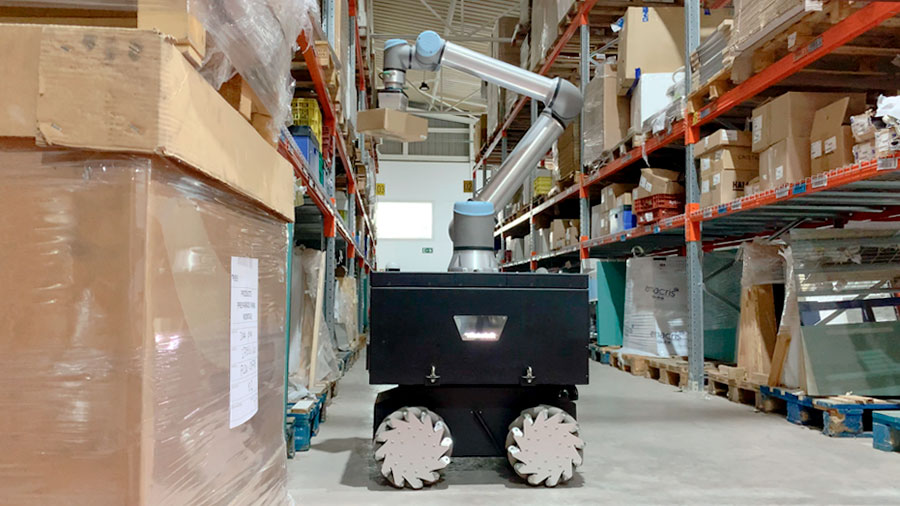 Competitive advantages of the RB-KAIROS+:
As well as having all the advantages mentioned in the previous point, common to all mobile manipulators in Robotnik's portfolio, these are some of the benefits that customers of the RB-KAIROS+ have highlighted after its use:
Versatility, increased profitability and improved production processes due to the possibilities of integrating the entirety of UR's e-Series arms with the autonomous mobile platform.
The AMR is UR+ certified, ready for the integration of a UR e-Series arm.
Universal Robots is one of the giants in collaborative robotic arm manufacturing. Its cobots are safe, flexible and easy to use, so the synergy between the two companies has allowed the development of Robotnik's most demanded mobile manipulator: the RB-KAIROS+.
Easy to configure and adaptable: The open software and hardware in ROS, implies a much simpler set-up than other mobile manipulators. This turns the robotic arm into a mobile manipulator in an intuitive way.
Increased efficiency in tasks such as pick&place. With a payload of up to 250 kg, it adds value in handling heavy loads and automating storage tasks.
Collaborative: This mobile manipulator is completely autonomous and allows the robotic arm to work in different locations, extending its work area, making it perfect for sharing workspace and tasks with humans.
Incorporating mobile manipulation into your industrial plant?
In recent years, the number of industries automating their production lines by incorporating one or more mobile manipulators into their plant has grown considerably.
To find the solution that best suits your specific needs, Robotnik offers a free consultation service without compromise, in which the professionals will advise you personally.
In any case, there are some key aspects that you can take into account to assess the feasibility before deciding:
What is your environment like?
A working environment can be structured or unstructured.
Structured means that the robot will not encounter many unexpected obstacles around it, i.e., there will be no modifications to the layout so that the robot maintains the landmarks that allow it to position itself.
If it is unstructured, the robot will only be able to avoid dynamic, i.e. unexpected, obstacles if it maintains around 20% of the reference points. When it detects them, it will intelligently re-route its path, ensuring safety and cost-effective working time.
What features does the building need to have?
The floor is a very important aspect to take into account, as uneven floors affect the accuracy of the odometry and the vibrations generated by the laser measurement. In addition, mechanical wheels may have some limitations in some environments: oily or greasy floors, very dirty, gritty or rough floors.
Walls and shelves are important for the robot to navigate the floor, locating and mapping simultaneously. Robotnik's mobile manipulators will take these as a reference and a variation of no more than 20% from the original layout will not affect the robot's performance.
On the first day, the robot is walked around the site, moving it in a teleoperated way with a remote control and generating a real route that will be the basis for the future navigation of the robot.
Aspects such as the dimensions of the corridors or the height of the doors must be adapted to the robot's footprint. The omni-directional wheels are another great advantage of Robotnik's mobile manipulator because of their 360° versatility, especially for industrial applications where the robot can easily move in small aisles, for example.
How much precision does your application require?
By default, the positional accuracy provided by LiDAR for SLAM navigation is about 5 to 10 cm. This accuracy may be sufficient for a normal application where the robot simply transits from point A to point B or goes to several waiting points. But for specific applications such as Pick&Place or interaction with other machinery, this accuracy can be improved up to 1 mm.
This is achieved by adding sensors or QR codes. This is done, for example, for docking: we add a code that the camera recognises and is able to relocate.
How much payload do you need to carry?
Each Robotnik mobile manipulator has a different payload capacity, so you can find the best robot option depending on the payload you require.
Specifically, the standard configuration of RB-KAIROS+ has a payload of up to 250 kg. Other versions are also available with collaborative arms with payloads of 3 kg, 5 kg and 16 kg.
How are work shifts set up?
One of the great benefits of Robotnik's mobile manipulators is that, with the right fleet of robots – optimised in number of units – it is possible to work full 24-hour shifts. The robots will perform automatic battery charging when necessary. The robot is equipped with a charging station to which it can be connected autonomously. It is possible to command the robot to perform a charging action, to launch a terminal, to launch wirelessly, to launch an industrial protocol as a rest or also to launch the Universal Robots poliscope interface.
Mobile manipulation is a definite boost on the way to Industry 4.0, also known as connected industry.
The use of mobile manipulators promotes flexible and intelligent industrial automation that increases the competitiveness of a factory by making better use of its resources.
Robotnik is not only committed to automation, but also to intelligent automation, which involves developing mobile robots capable of self-managing and making decisions without human intervention.