AER publishes in its 2021 yearbook the success story of Robotnik and its RB-KAIROS+ in a gear production company.
AER Automation is the Spanish Association of Robotics and Automation, a non-profit organization that brings together the main players in the automation and industrial, service and educational robotics market: manufacturers, distributors, engineering companies, integrators, technology centers, startups, universities, training centers and user companies.
It is a founding member of the International Federation of Robotics (IFR), has the mission to promote the transformation of the productive fabric in the Spanish territory through robotics and automation technologies, as well as to establish a strategic agenda to meet the challenges of the future. It also aims to provide knowledge to improve competitiveness and business efficiency in all sectors. Finally, the association aims to ensure a fluid access of qualified young talent to Industry 4.0, also promoting the qualification of senior talent.
Robotnik, as a leading Spanish company in mobile robotics, has been a member of AER for years. For this reason, the annual edition of its INSIGHT includes one of Robotnik's recent success stories, based on an industrial implementation in the Netherlands company Hankamp Gears BV. It features the RB-KAIROS+, an autonomous mobile manipulator designed and manufactured by Robotnik specifically for industrial applications such as pick and place.

Robotnik's RB-KAIROS+ mobile manipulator, designed specifically for pick & place tasks, is incorporated into a gearbox factory.
Pick and place tasks are often among the most tedious, demanding and toughest – physically and mentally – for employees in an industrial environment. And, at the same time, they are indispensable in any manufacturing process. Robotnik has developed the RB-KAIROS+ mobile manipulator as a solution to automate this process.
During the past year, the Dutch company Hankamp Gears BV decided to incorporate autonomous and collaborative mobile robotics in its factory and thus began a relationship with the Spanish company Robotnik Automation, which has 20 years of experience in the sector.
Hankamp Gears BV carries out the entire production process of high-quality gears in-house, so their goal has always been to minimize the failure rate and potential risks that can occur during production and, in turn, reduce the delivery time and price of the parts they manufacture.
To achieve this goal, they have relied on the RB-KAIROS+ mobile manipulator as a solution to automate this part of production, since it is not only capable of performing a task without human intervention, but also of self-managing and making decisions, thanks to its ability to access, generate and process information.
¿Why RB-KAIROS +?
The RB-KAIROS+ mobile manipulator, designed and manufactured by Robotnik, is extremely useful for industrial applications such as pick and place as it is completely autonomous and allows the robotic arm to work in different locations, expanding its work area. In addition, RB-KAIROS+ can be configured with a wide range of sensors and components that are within the UR+ ecosystem, as it is a UR+ certified product. Last but not least, another of its features is its robust steel design, which allows it to carry up to 250 kg of load.
For all these reasons, Hankamp Gears BV has included this autonomous and collaborative mobile manipulator as part of its growth strategy. Specifically, RB-KAIROS+ will handle pick and place and handling tasks in the company's metal gear production line. Thanks to the complete integration of the UR16e arm, the robot navigates autonomously between the different points of the industrial hall in a safe way, avoiding any possible obstacles that may appear.
The simplification of processes is one of the major contributions of collaborative mobile handling to industry. A workspace in which humans and robots can work together safely makes the results infinitely more efficient, facilitating the task for operators, optimizing resources, obtaining a reduction in costs and, therefore, more efficient results.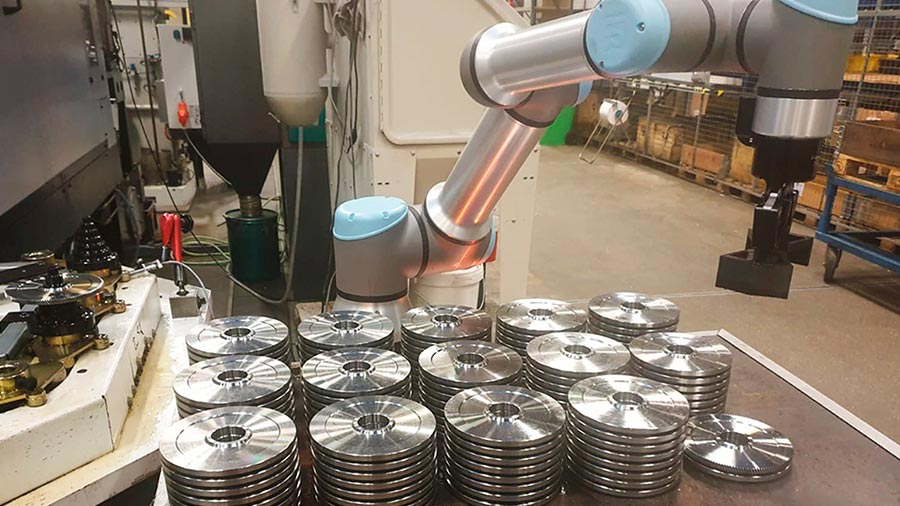 Robotnik
Robotnik was founded in 2002 and is currently a reference in mobile robotics in the world. The company designs, manufactures and markets autonomous and collaborative mobile robots and manipulators for industry. Its technology, professionalism and the quality of its products and services have made it present in the main international markets.
Collaborative robotics in Industry 4.0
Collaborative robotics is a reality within Industry 4.0. It demonstrates that the future of industry looks like a workspace where robots and humans work together, each bringing their own strengths to the job.
Robots are well suited to perform repetitive and precision tasks because they apply the same criteria over and over again. Industry professionals, on the other hand, have the creativity and problem-solving skills needed to solve problems. The sum of the two leads to the greatest efficiency in production processes.
In the midst of this new collaborative work environment, the RB-KAIROS+ robot has emerged as a mobile solution to expand the capabilities of Universal Robots' e-Series arms, improving the efficiency of production lines.
The synergy between Robotnik and Universal Robots has allowed the creation of RB-KAIROS+, enhancing the portfolio of Collaborative Mobile Robots (CMR) and meeting the needs of those industries that are committed to collaborative robotics, that are aware of all its advantages and that have started their path towards Industry 4.0.
RB-KAIROS+
RB-KAIROS+ is a mobile robotic platform designed for plug & play integration of Universal Robots' e-Series arms, which increases the flexibility of these arms, allowing them to work in different areas. This means that the robot can perform a greater number of tasks in different spaces.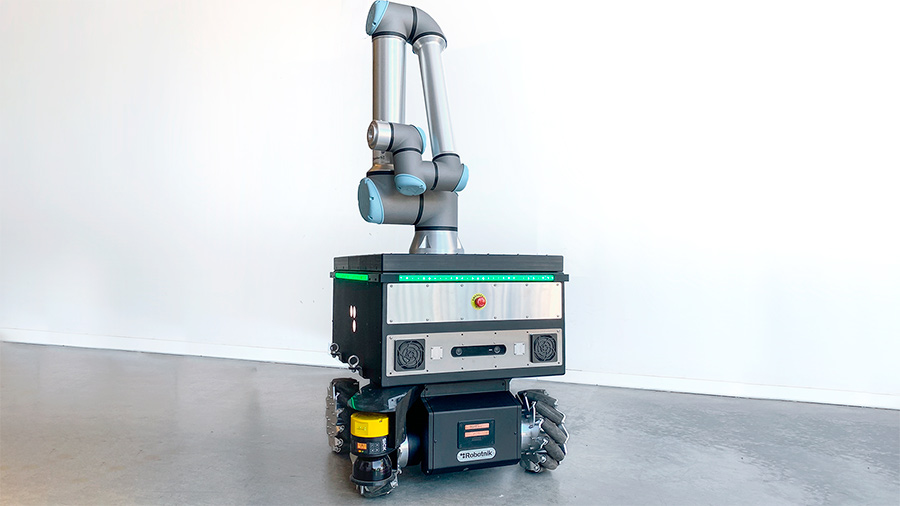 It has been developed, at hardware and software level, to facilitate the installation of the robotic arm, thus obtaining a powerful and easy-to-use collaborative mobile manipulator. The robot software is integrated in Polyscope, allowing easy programming.
It is a collaborative mobile manipulator, which means that it can work in different industrial environments safely, sharing the workspace with the operators.
RB-KAIROS+ is officially certified by UR+, which guarantees its compatibility with models: UR3, UR5, UR10, UR3e, UR5e, UR10e, and UR16e.
Benefits of integrating the RB-KAIROS+ in a company
Industries that are automating their lines through collaborative robotics can expand the potential of their arms thanks to the RB-KAIROS+ mobile manipulator. These arms can perform more tasks at a greater number of sites. One of the most important factors in most industrial processes is time, which has been increasingly optimized through process automation.
As was the case in the success story in the previous article with Hankamp Gears BV, this is achieved:
Unlimited extension of the working space of the cobots.
Increased effectiveness in various industrial tasks.
Greater profitability and improvement in production processes due to the versatility of the robotic arms only with the acquisition of a mobile platform compatible with all the arms of the UR e-Series.
Since the robot shares workspace with the operators, safer industrial and working environments are created.Providing a mechanical and repetitive, yet precise and constant work rhythm.
RB-KAIROS+ in action: vídeo.