Robotnik has a wide experience in robotics and autonomous mobile handling both in industry and in R&D projects. The goal is always to provide effective solutions to the real world in different sectors. In this sense, this post takes a look at the sectors in which collaborative mobile robotics and manipulation play a key role.
Collaborative robotics applications in Industry 4.0 have become a determining factor for the growth of companies in different sectors, thanks to the benefits of this type of intelligent automation. Let's talk about Mobile robotics and the advantages it brings to your sector.
Advantages
Intelligent automation: this is the name used to refer to the combination of robotic process automation (RPA) and artificial intelligence (AI) technologies that, by streamlining digital transformation, result in boosting the comprehensive automation of industrial processes.
Connectivity: 5G, high speed, low latency, IoT…This is what makes machine-to-machine (M2M) communication possible: the creation of decentralized systems and the possibility for robots to interact with humans through integrated interfaces that simplify collaborative work.
Flexibility: This refers to the adaptability of mobile robots and mobile manipulators to change the way they work, depending on the demands of the production line or changes in the working environment. Executing different tasks, adapting their speed, creating alternative routes or changing sections in real time are among the capabilities of a mobile robot with intelligent navigation.
Autonomous mobile robots (AMRs) have changed the automation landscape in industry, especially in collaborative environments, where robots share workspace with people and therefore must do so safely.
Collaborative mobile robotics provides a great help in the execution of repetitive processes, adapting the movements of robots to the information they receive, process and share. Currently any industry, regardless of its size, can have access to collaborative robotics. This is due to several factors such as, for example, scalability (a project can be started by a single robot or in a single space and then progressively expanded) or the reduction of product prices. This, added to other factors, such as the fact that there are no physical modifications to the layout, makes mobile robotics available to any small and medium-sized company.
R&D: First step to final applications
Since 2002, Robotnik has participated in more than 60 research projects, most of them at European level. Currently, some 30 projects of different nature are underway: some with objectives oriented to logistics, others to the health sector or also to the agri-food sector, among others. This makes it possible to use intelligent, autonomous and collaborative mobile robots that enable the creation of more efficient industrial processes with a better use of resources, which translates into higher productivity in general.
The use of mobile robots and mobile manipulators promotes the flexible and autonomous industrial automation needed to create Smart Factories thanks to the integration of the latest smart technologies in robotics, such as the Internet of Things, Artificial Intelligence or Big Data.
The World Robotics 2021 Industrial Robots Report reveals a record 3 million industrial robots operating in factories around the world, which translates into a 10% increase over the previous year. Sales of new robots grew slightly, by 0.5%, despite the pandemic, with a total of 384,000 units sold worldwide in 2020. This is the third most favorable year in the history of the robotics industry after 2018 and 2017. ( Source: IRF)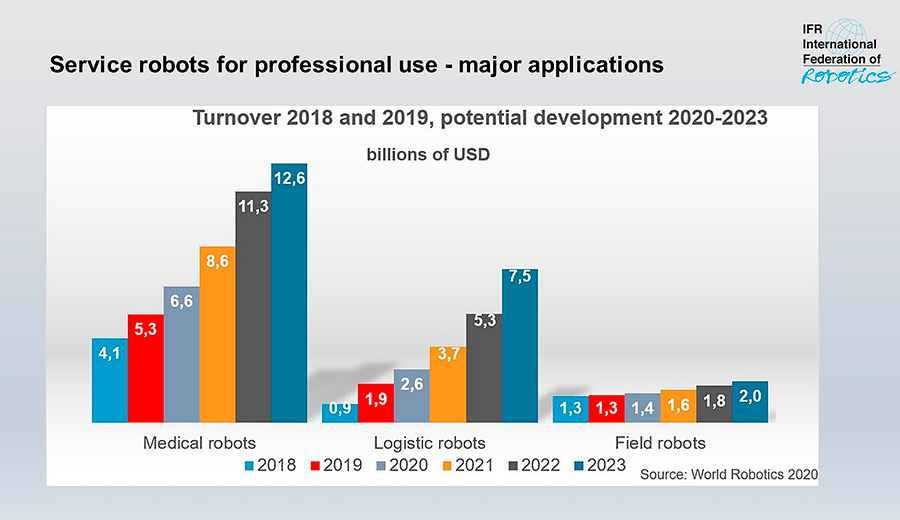 Significant growth in service robotics is observed in the various economic sectors: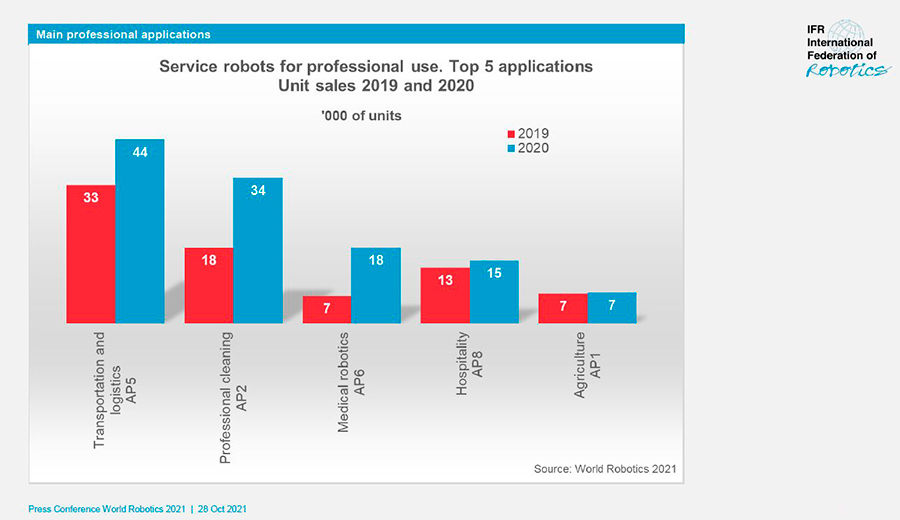 Application of robotics in agriculture
Mobile robotics is working in the agricultural sector to improve productivity, specialization and environmental sustainability. Labor shortages, increased consumer demand and high production costs are some of the factors that have accelerated automation in this sector, with the aim of reducing costs and optimizing harvests.
Did you know that up to 99% of phytosanitary products are currently wasted because they cover the entire field? Agricultural robotics is capable, for example, of spraying pesticides only to the plants that need them. This is just one example of how very concrete benefits can be seen in sectors that are traditionally not very automated.
Thus, collaborative robots are now commonly used in fruit harvesting or insect grafting and cultivation, where Artificial Intelligence provides predictive data to optimize farms and plantations.
These are some of the tasks in the agricultural field for which Robotnik robots are used:
Crop condition identification and corresponding chemical application, spraying or harvesting, as required by the fruit or plant.
Mobile manipulation through collaborative arms (harvesting, fruit handling).
Collection and conversion of useful information for the farmer.
Selective application of pesticides.
Selection to avoid food waste.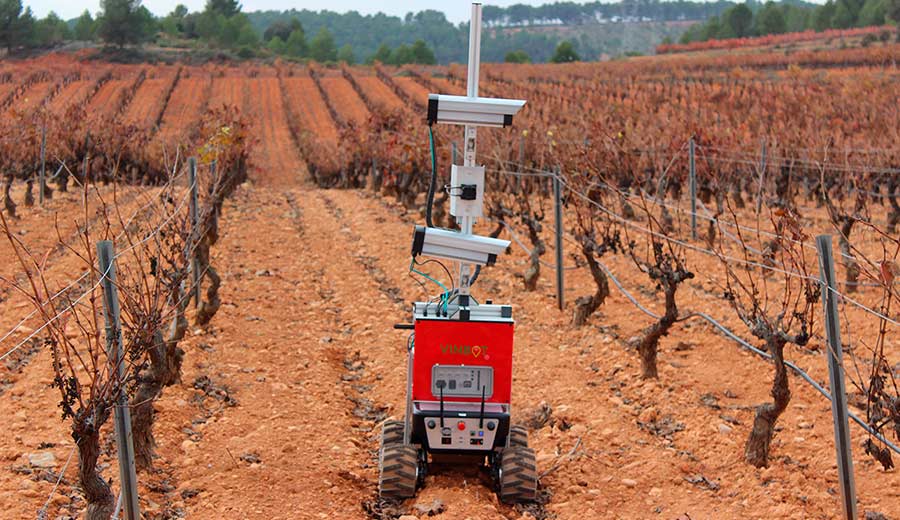 Application of robotics in medicine
Mobile robotics has also become a mainstay in the healthcare sector, especially in recent times. Applications in hospitals and in medicine, in general, have been a definite boost in the fight against COVID-19.
Collaborative robotics applied to the healthcare sector is an excellent tool that greatly improves the quality of life and provides autonomy to dependent people. Collaborative mobile robots, for example, can be adapted to robotic or motorized shower systems for people with functional disabilities, allowing them to shower on their own by giving commands to the robot.
These types of robots can also become excellent hospital assistants, providing support in operating rooms, ICUs or risky areas for the healthcare team.
Some of the tasks in the healthcare sector for which Robotnik robots are used would be:
Food transport and supply support.
Cleaning or disinfection tasks.
Storage and distribution of medicines.
Surgical assistance.
Administrative and logistical tasks that are routine and burden the healthcare workers.
Tele-assistance.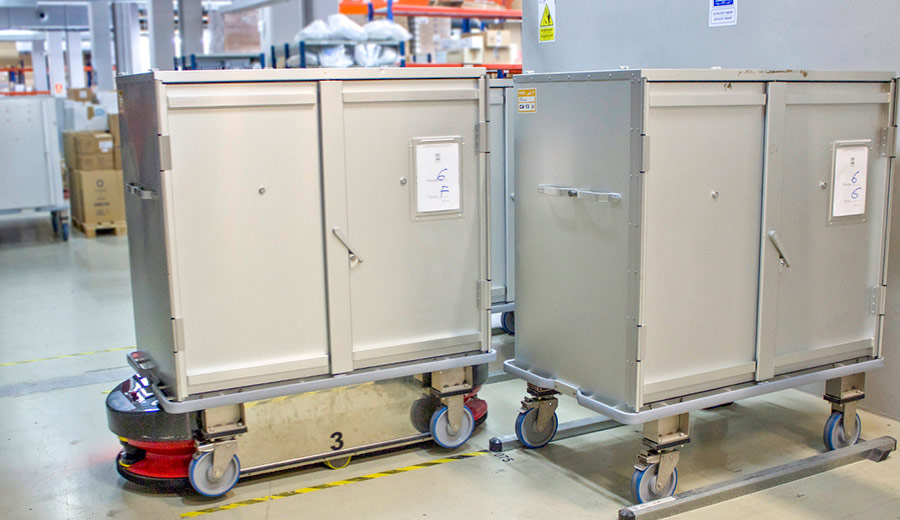 Application of robotics in construction
The construction sector is one of the largest in the global economy. However, it is one of the slowest to start the path towards automation and digitization. This is due to multiple factors such as labor costs and lack of process planning.
Autonomous mobile robotics is already being implemented in various areas of construction: architecture, masonry, demolition, infrastructure… One of the tasks that most AMRs demand is safety, which uses technology to review and detect possible errors in real time and send the information to the system so that it can be corrected as soon as possible.
Increased accuracy, significantly increased productivity, reduced errors, meeting deadlines, reduced number of accidents and reduced costs are just some of the advantages that this technology offers to the industry.
Robotnik is currently working on several R&D projects whose objectives and efforts are aimed at boosting construction through mobile robotics and other cutting-edge technologies.
Some of the construction tasks for which Robotnik robots are employed would be:
Prediction of required tasks.
Evaluating the progress of a project.
Early detection of possible errors.
Automation of dangerous tasks for operators.
Monitoring and inspection tasks.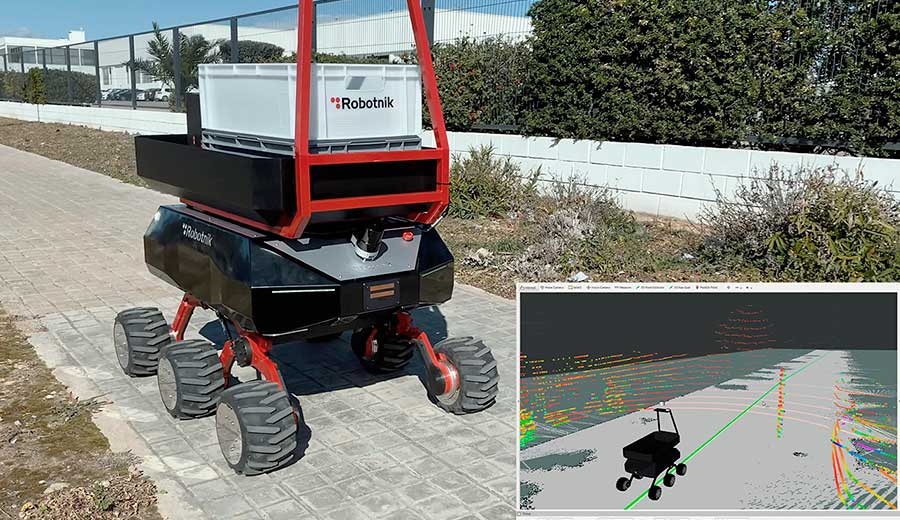 Application of robotics in Industry 4.0.
Mobile robotics applications make it possible to take advantage of all the benefits that intelligent automation brings to any production line in numerous industries. It is the key tool for creating safer and more efficient industrial spaces and achieving higher productivity, with a focus on Smart Factories.
Industrial robots have become a key technology in logistics, especially for tasks such as transportation or picking.
Thus, the automotive industry, manufacturing industries, warehouses, factories and any type of industrial company with an ambitious future strategy, already incorporates collaborative robotics in its plant.
Among the advantages that Robotnik's robots bring to the industrial sector are the following:
Optimization of production processes that are dangerous or repetitive for workers.
Ensuring the safety of operators.
Considerable time savings because the robots or mobile manipulators act predictively to manage all the resources at their disposal.
Loading of heavy items.
Pick&Place tasks.
Stock management.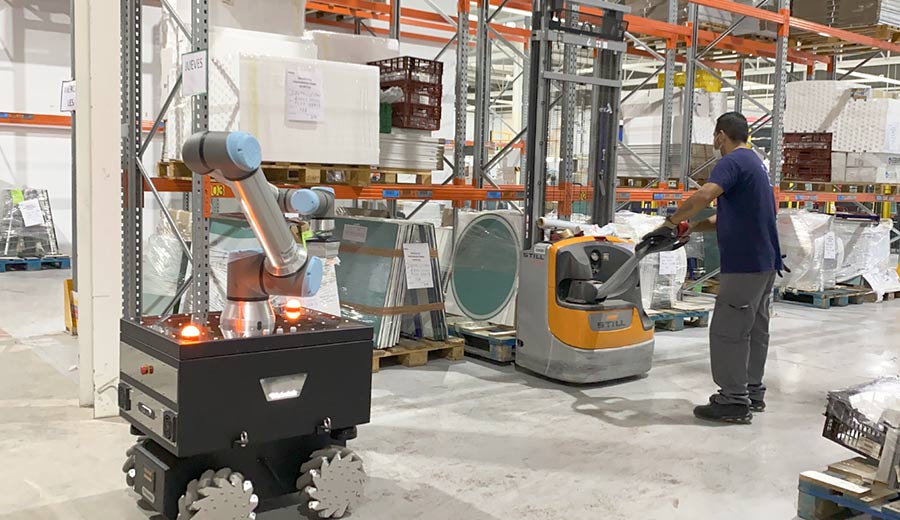 Application of robotics in security and defense
Currently, Ministries of Defense, institutions focused on rescue or emergency operations, Civil Protection, law enforcement and sectors working for public safety in general, have integrated autonomous mobile robotics to support their daily activities. The intervention of collaborative mobile robotics is, in many cases, essential for rapid action in the event of an emergency or disaster, as well as to improve the safety of the human team involved in rescue missions. It is in the early stages of a disaster that the chances of saving lives are greatest and operations are slowed down by various factors and uncertainties.
Some of the tasks in security and defense for which Robotnik robots are employed would be:
Threat detection and assessment.
Real-time information gathering and transmission.
Recognition and assessment of dangerous territories.
Detection and early identification of criminal activities and dangerous incidents.
Transport of goods and people.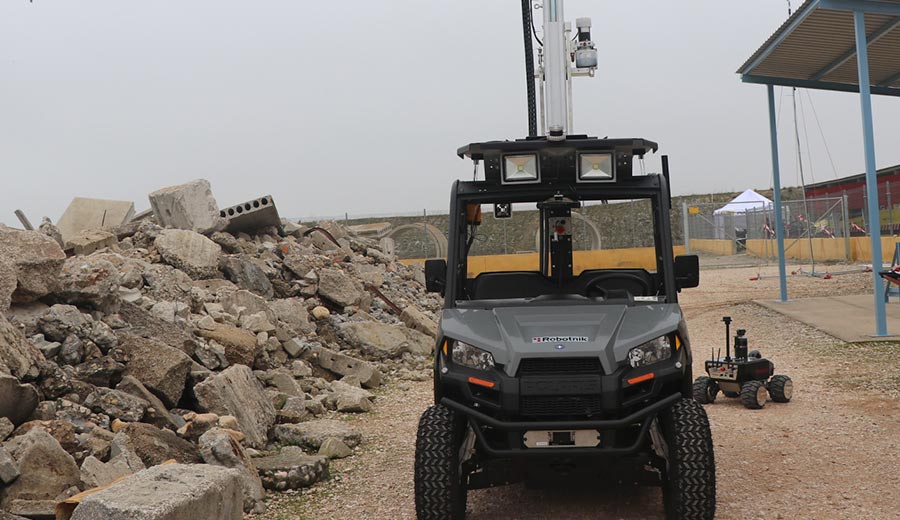 This post explains in more detail the projects in which Robotnik is currently involved related to citizen security and rescue. Autonomous ground robots can develop high-level activities that expedite the decision making of critical moments.
Concluding, the applications of robotics and mobile and autonomous handling make it possible to take advantage of all the benefits that intelligent automation brings to any professional activity. In this sense, the forecast is that this technology will be extended to all those sectors in which repetitive, tedious and even dangerous tasks have to be carried out.