Valencia has been the location to show the advances in 5G technology within the Pilotos 5G project, in which Robotnik, Orange, Elewit, Vysion or CFZ Cobots, among other partners that make up the UTE, have joined forces to develop new applications of this technological standar,
The First Vice-President of the Government and Minister of Economic Affairs and Digital Transformation, Nadia Calviño, attended one of the most important events of this 2021 in Valencia on Thursday 9 September to see, first-hand, some of the demonstrations that are being developed around 5G technology in different areas.
One of the pilots that took place live at La Marina de Valencia was Remote Inspection and Maintenance with Robots. In this use case, Robotnik collaborates with Orange and Huawei to carry out inspection and maintenance of electrical and railway infrastructures, using robots remotely controlled thanks to the 5G network for the Generalitat Valenciana and the electricity company Viesgo. Remote control of robots in complicated terrain requires high information transmission capacity (high quality images) and ultra-low latency.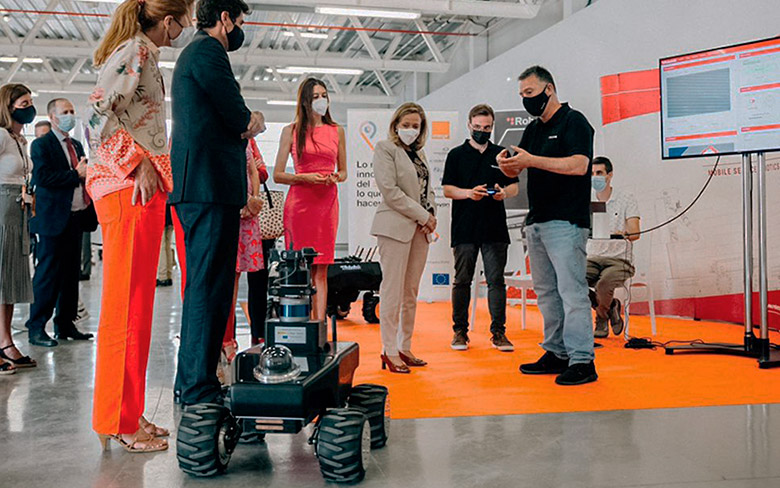 Roberto Guzmán, CEO of Robotnik, showed the media and the various authorities who attended the event, the benefits of 5G technology in the field of mobile robotics and how the company is working on the 5G Pilots project through two use cases.
This work will translate into great opportunities for development and a sustainable future that will benefit different productive sectors and the business fabric in Spain.
After taking an interest in the evolution of each of the use cases, the minister said that "this is probably the most pleasant event of my week", and expressed her satisfaction at seeing how much progress the project has made in such a short time "what was a list of projects a year and a half ago is now a reality".
There is no doubt that this project brings great advances for both industry and other sectors, which will result in significant progress and benefits for society.

Below is a compilation of some of the information published about the event:
Una UTE liderada por Orange presenta las aplicaciones del 5G , Las Provincias
Calviño asiste en València a demostraciones sobre el uso de tecnología 5G , Agencia EFE
València, como nunca se ha visto , Levante-emv
Calviño supervisa los avances del 5G en València , Levante-emv
Nadia Calviño asiste en València a experiencias 5G que avanzan el futuro del turismo, la telemedicina, la agricultura y el mantenimiento de infraestructuras críticas , Orange
Valencia, nodo clave para el desarrollo del 5G en España , Nobbot