Inspection and maintenance tasks are a fundamental part of many industrial sectors: deteriorated infrastructures, tunnels, refineries, old buildings…
Mobile robotics allows the automation of operations related to the inspection and maintenance of scenarios that involve danger for operators.
In Robotnik has grown in recent years, the demand for AMR (Autonomous Mobile Robots) both for end users and for R&D projects that promote research in this direction.

Safe industrial inspection
There are difficult to access or dangerous environments for humans, such as nuclear power plants, the chemical industry where toxic substances are handled, or places where there is a danger of collapse, among others.
Mobile robotics offers multiple advantages for inspection tasks in these cases:
Ensuring operator safety
Reducing the cost of operations
Ability to enter hard-to-reach spaces
Reducing errors due to fatigue or poor environmental conditions
Autonomous mobile robots for remote inspection
What kind of robots are in demand for inspection and for which applications specifically?
Robotnik has delivered several SUMMIT-XL robots for inspection applications in tunnels, remote substations, agricultural fields, shipbuilding and railway infrastructure, among others.
The SUMMIT-XL is a robust ROS-based modular platform that allows customisation for multiple outdoor and indoor applications. The platform has an autonomy of 5 hours of operation, includes a self-recharging station and is capable of mounting a wide range of sensors and actuators.
Problem, context and state-of-the-art
To operate in areas where there may be no data network available or insufficient bandwidth, mobile and autonomous robots capable of operating in these scenarios are needed.
Robot operation is limited by both low autonomy and network limitations. The absence of data networks with the necessary characteristics for real telepresence has meant that most efforts to date have focused on providing robots with a high level of autonomy to perform complex maintenance or inspection operations.
The emergence of 5G technology allows new operating schemes to be used, in which the robot autonomously performs a large part of the mission, but also simplifies remote access to the robot from anywhere. Thus it can be teleoperated in circumstances for which it has not been programmed.
5G networks have latency and bandwidth that enable efficient robot teleoperation and complex teleoperated operations (turning a valve, changing a fuse, resetting a circuit breaker, opening a control panel and searching for a damaged component, etc.).
The robots will continue performing autonomous missions. When their level of autonomy is not capable of solving a problem, an operator will take control and perform the corresponding operation via telepresence, providing intelligence and decision-making.
The robot is operated from a standard HMI that can be customised to the user's specific needs. Additional sensors are added as new tabs and specific functionalities such as RTK-DGPS navigation or 3D point cloud visualisation are enabled in the same environment. The use of web-served interfaces allows remote operation and monitoring from any portable device or PC, as only a web browser is needed.
Success stories
There are several inspection success stories for which Robotnik has developed mobile robotics solutions. One example is the robotic vehicle for the maintenance service of the electricity interconnection tunnel between France and Spain.
To ensure the safety and reliability of the high-voltage power line between France and Spain, Robotnik has developed a fleet of robotic trains to monitor the condition of the tunnel section of the line.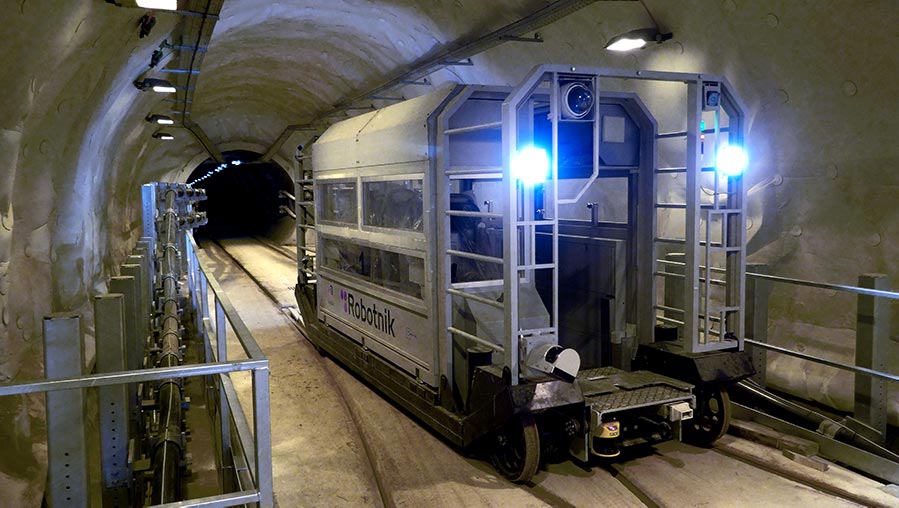 The line is 64.5 km long, 33.5 km in France and 31 km in Spain, and crosses the Pyrenees through an 8.5 km tunnel in the central part of the route. This is an ambitious European project being developed by the mixed capital company INELFE (Interconexión Eléctrica Francia-España, a company formed by the public electricity companies of each country).
The interconnection between the two countries aims to optimise the daily production of the power plants, increase opportunities to operate with renewable energies and improve supply conditions.
Finally, it is important for Robotnik to highlight the importance of robot simulation in inspection projects. Simulated robots and environments make possible to start software development at an early stage and to reproduce the operating conditions even before the hardware has been developed. The simulation phase allows testing of kinematic and sensor configurations and is an important part of the design iteration cycle. In this use case, simulation allowed testing of different fleet management systems, collision avoidance algorithms and point cloud processing strategies.