Have you ever wondered what is a security robot and what does it do? Come and read.
Since 2002, Robotnik has participated in more than 60 projects, most of them at European level. Currently, about 30 projects of different nature are in progress: some of them with objectives oriented to logistics, others to the health sector or also to the agri-food sector, among others.
This post compiles the ongoing projects involving security robots related to public safety and rescue. 
R&D in Europe
One of Europe's main challenges is to promote research and development within companies, as it is the key to the competitiveness and productivity of each economic sector in the future. Therefore, there are official funding programmes such the Horizon Europe that provide support to this end.
All countries have increased investment in robotics, both at the enterprise level and at the level of governments and institutions.
This increase in investment is due to a number of factors, for example, the enormous development of some of the catalysts of robotics such as 5G or Artificial Intelligence, which provide an ideal framework, with connections and capabilities that did not exist before.
The evolution of these catalyst technologies is key to the autonomy of security robots. 
What is a security robot?
A security robot is the one capable of performing tasks that can help in security missions. Within this, security robots display different capabilities, different levels of autonomy, mobility, sensorisation and intelligence.
Perhaps there is less awareness of research and innovation in this area, but the use of security robots is becoming more and more widespread. Defence ministries, institutions focused on rescue or emergency operations, civil protection, law enforcement and the sectors that work for citizen security in general, have their sights set on the advances that this technology represents.
There are different forms of insecurity that can affect citizens, 'be it crime, violence, terrorism, natural or man-made disasters, cyber attacks or abuses of privacy, and other forms of social and economic disorder'. European Commission.
The projects in which Robotnik provides security robots aim to understand, detect, prevent, deter, prepare and protect against security threats.
Why are security robots necessary? 
Here are the points taken from the European Commission's own website, which summarise the activities that are the focus of this research framework, which includes autonomous security robots:
– Fighting crime, illegal trafficking and terrorism, including understanding and combating terrorist ideas and beliefs;
– Protecting and enhancing the resilience of critical infrastructures, supply chains and transport modes;
– Strengthening security through border management;
– Improve cyber security;
– Increase Europe's resilience to crises and disasters;
– Ensuring privacy and freedom, including on the Internet, and improving society's legal and ethical understanding of all areas of security, risk and management;
– Improve standardization and interoperability of systems, including for emergency purposes;
– Supporting the Union's external security policies, including conflict prevention and peace-building.
What does a security robot do?
Autonomous security robots can perform advanced tasks ranging from advanced inspection of potentially dangerous territory, detection and prediction of threats – such as explosives or toxic substances – to assessment tasks and support to disaster rescue teams. 
Here are the security and rescue projects Robotnik is currently involved in:
Fighting crime with an autonomous platform with an advanced prediction, prevention, operation and investigation platform leveraging the IoT ecosystem.
In this case, the security robot that Robotnik provides, as a hardware supplier, is a UGV (unmanned ground vehicle) capable of deploying, autonomously in the field, a small UAV (unmanned aerial vehicle).
Threat detection and assessment.

Dynamic mission planning and adaptive navigation for enhanced security based on autonomous systems.

Distributed command and control of police missions.

Information sharing and exchange of digital evidence based on blockchain.

Delivery of relevant information to different stakeholders in an interactive and tailored way.
Aims to develop holistic and user-friendly solutions for first responders. Robotnik is responsible for the development of robots for hazardous environments and support missions and is involved in the development of interfaces in security robots, and the application of command and control.
Equipment tools and mission-critical strategies for first responders

Augmented and virtual reality

Passive and active localisation and tracking

360° multi-view interactive video transmission.

Coordination of autonomous robots and unmanned aerial vehicles.
Border authorities and law enforcement agencies (LEAs) across Europe face significant challenges in the way they patrol and protect borders. ROBORDER aims to develop and demonstrate a fully functional autonomous border security system with unmanned mobile robots including aerial, water surface, underwater and land vehicles.
Autonomous swarm of heterogeneous robots for border security.

Fully functional autonomous border security system with unmanned mobile robots including aerial, water surface, underwater and land vehicles, capable of both autonomous and swarm operation.

Detection capabilities for early identification of criminal activities and dangerous incidents.
The aim here is to provide first responders with a new approach to accelerate the exploration and assessment of hazardous sites, enabling rapid and effective response. Improving first responder operations in the early stages of a disaster when the chances of saving lives are greatest and operations are slowed down by many types of uncertainties.
Robotnik's role in the project is to design and develop an unmanned security robot capable of performing scouting missions through rough terrain or complex indoor locations.
Recognition and assessment in dangerous incidents.

Rapid response is key to saving lives and minimising environmental damage.

Develop a platform that allows first responders to safely explore the scene, analyse and assess existing threats and decide, based on reliable situational awareness, on the next steps to take.

Use cyber-assistants (intelligent autonomous vehicles) to improve the speed, range and efficiency of complex site exploration.
FASTER will provide innovative, accepted and efficient tools that enhance the capabilities of first responders in terms of situational awareness and communication.
Robotnik is the leader of the project's Work Package 5: "Autonomous Platforms". It involves the development of a new RB-CAR vehicle and also a SUMMIT-XL robot. They will be used by first responders to explore and check the environment and also to transport some heavy materials. These security robots allow: 
Tactical situational awareness providing innovative visualisation services for a portable common operating picture to depict indoor and outdoor scenarios.

Data collection through a secure IoT platform for distribution.

Resilient communication at the field level providing haptic communication capabilities, communication with K9s; and at the infrastructure level through 5G technologies and UAVs.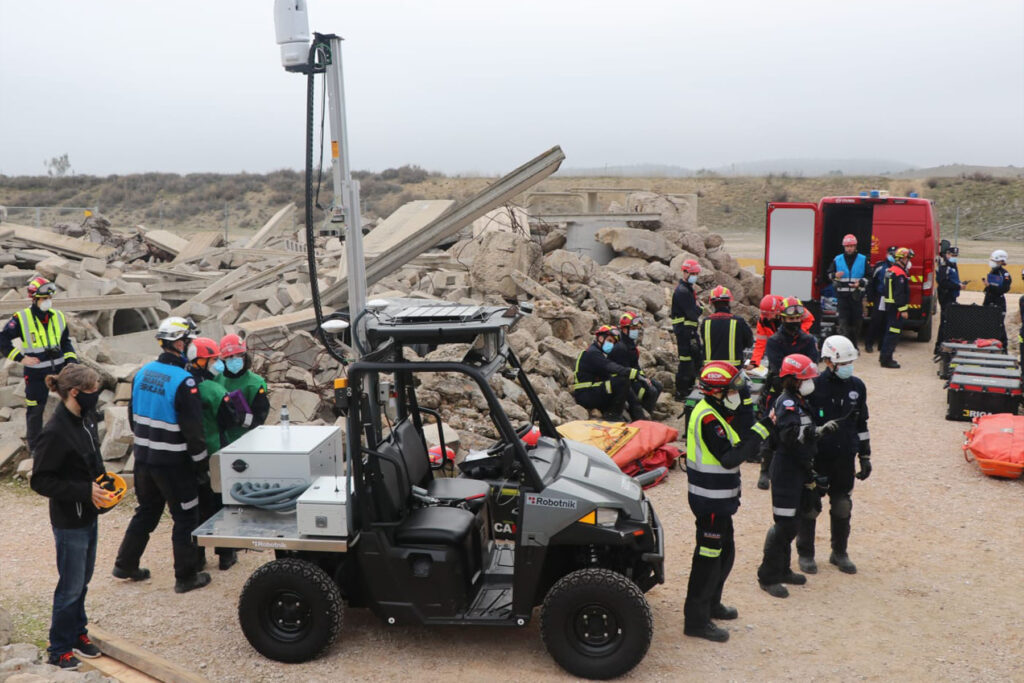 If you want to know more about what is a security robot or which are the possibilities offered by security robots for your project, you can consult the Robotnik team to solve any questions.